Contact us
Provence Luberon
Sotheby's International Realty
Place du Château
84220 GORDES, France
Provence Luberon
Sotheby's International Realty
97 place du 8 Mai
84380 MAZAN, France
>
>
Vineyard: Domaine de la Citadelle in the Luberon
14 grape varieties born from the passion of Yves Rousset-Rouard

After 20 years, with a lot of work, patience, and thanks to a very selective choice of plots, Yves Rousset-Rouard, with the help of his son Alexis who joined him in 1995, managed to create one of the fields references of the appellation.
ORIGINALLY
Originally from Marseille, the Rousset-Rouard family owns "La Citadelle" in Ménerbes. In 1989 Yves Rousset-Rouard bought an old farmhouse with 8 hectares of vines and decided to put all his passion and his means into the creation of the Domaine de la Citadelle. Located on the north side of the Luberon massif, 35 km east of Avignon and the mouth of the Rhône and the Durance, the Domaine has a current area of ​​39 hectares with 60 parcels.
No doubt, Yves Rousset-Rouard has flair. And talent. Just as he produced two of the biggest box office successes, Emmanuelle and Les Bronzés, the former politician, he is mayor of his village of Ménerbes, did not hesitate, in 1981, to buy the Citadel, this property of which he made a jewel of the viticulture of the Luberon. And to which he has generously attached an original museum of the Tire-Bouchon, which draws a crowd of tourists towards the small city of Provence.
On its 45 hectare vineyard, rich in late and fresh terroirs with very varied soil, it planted no less than 14 grape varieties! With his son, Alexis, also touched by the virus, they develop real nectars that combine finesse, intensity and elegance. Great reds of gastronomy (where the Syrah dominates), closer to the northern coasts of the northern than to the southern ones, such as the juicy and harmonious cuvée Les Artmes (13 euros 2010), cherry and laurel notes; or the exceptional Governor Saint-Auban (19,50 euros the 2009), which exhale blackcurrant and blackberry, pepper and licorice. To be invited without reserve to the Christmas table.
www.domaine-citadelle.com
The latest news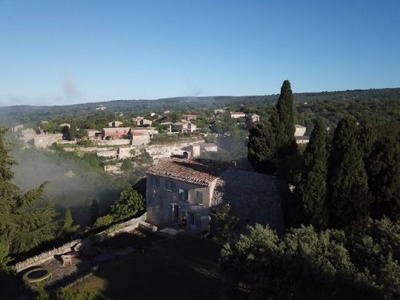 4 good reasons to buy in the Vaucluse.
Whether you dream of a Provencal farmhouse lost in the beautiful countryside or a pretty townhouse in the heart of the action, there are many reasons to come and live in the Vaucluse. Let us share with you the different reasons why a real estate project in the Vaucluse could be for you. The Vaucluse department is part of the Provence-Alpes-Côte d'Azur region. The population is homogeneous with...
Read more