Contact us
Provence Luberon
Sotheby's International Realty
Place du Château
84220 GORDES, France
Provence Luberon
Sotheby's International Realty
97 place du 8 Mai
84380 MAZAN, France
>
>
Vineyards: Marrenon in the Luberon
Roséfine, the rosé wine of the Marrenon vineyards in Luberon

The vineyard Marrenon is located in the Luberon Natural Park in the middle altitude between the Lubéron mountain and the Mont Ventoux. Its history goes back to 1966, when Petula Garcia, decides to settle there and to elaborate a cuvée that it baptizes of the name of the domain.
Today, it brings together more than 1200 winegrowers in cooperatives who work on a vineyard of more than 7600 hectares in Luberon and Ventoux.
The domaine launches the Roséfine 2013 vintage, a rosé wine made from an assemblage of wines from hilly vineyards, located between the villages of Cucuron and Cabrières-d'Aigues as well as vineyards developed in the commune of Coustellet .
KEY DATES :
1966: establishment of the Marrenon vineyard.
PRODUCT PRESENTATION :
Roséfine 2013 is a rosé wine, made from a blend of Grenache noir, Syrah and Merlot.
The grapes from which this wine is produced are harvested at night, in order to preserve the aromas. This process is also carried out without oxygen, in order to protect the grapes.
Juice extraction is carried out quickly to preserve the colors. This juice is then racked cold and fermented at 15 ° C.
The 2013 Roséfine wine is characterized by its pale pink dress. It gives off to the nose of its taster a fresh air, accompanied by notes of citrus and flowers, underlined by the pink grapefruit and the red fruits.
It is recommended to taste the 2013 Roséfine as an aperitif, accompanied by Mediterranean dishes, seasonal fruits, grilled fish and ratatouille.
The bottle displays at a public price of 5.20 euros.
PRODUCT POSITION ON THE MARKET:
The activity of the domain Marrenon is distributed to the export and in France equally.
In France, 65% is sold on large and medium-sized premises and 35% on hotels, restaurants and wholesalers.
The group operates in 25 countries, including countries in Western Europe, Northern Europe, Asia and Canada.
To taste in terrace under the sun of Gordes
http://www.marrenon.fr
Provence Luberon Sotheby's International Realty: Your expert in
luxury real estate in the Luberon and Provence
.
The latest news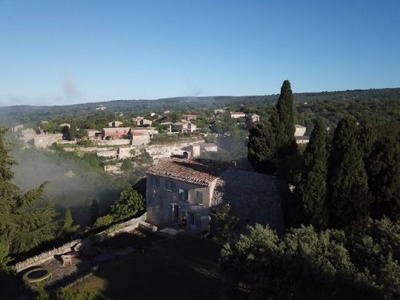 4 good reasons to buy in the Vaucluse.
Whether you dream of a Provencal farmhouse lost in the beautiful countryside or a pretty townhouse in the heart of the action, there are many reasons to come and live in the Vaucluse. Let us share with you the different reasons why a real estate project in the Vaucluse could be for you. The Vaucluse department is part of the Provence-Alpes-Côte d'Azur region. The population is homogeneous with...
Read more