Contact us
Provence Luberon
Sotheby's International Realty
Place du Château
84220 GORDES, France
Provence Luberon
Sotheby's International Realty
97 place du 8 Mai
84380 MAZAN, France
>
>
Vineyard: castle La Canorgue
Pioneer of organic wines in the Luberon

Here is one of the pioneers of the bio of the valley of the Southern Rhone, the castle La Canorgue. Jean-Pierre and Nathalie Margan produce a fine red wine and gourmand.
Partner of the Millésime Bio trade fair, La RVF presents its organic wines, to be found on the show in Montpellier, from 26 to 28 January 2015.
One of the pioneers of the bio of the Southern Rhone Valley, the castle La Canorgue. It is a property of 40 hectares located in Bonnieux, in the Luberon. We are in Provence, but the wines are attached here to the valley of the Rhone. The owner of the Château La Canorgue, Jean-Pierre Margan, is one of the precursors of organic wine, he converted his estate into organic in the 70's.
Today, Jean-Pierre works with his daughter Nathalie, they produce a Grenache-Syrah-Carignan red wine dominated by Syrah. The cuvées composed of these grape varieties can sometimes be confiturated, heavy, generous. Here, Jean-Pierre and Nathalie Margan manage to keep a great finesse of style.
It is a fine red, very floral, fruity and very fragrant. It is nuanced in aromas and has delicate tannins that make it today greedy and very digestible.
At the price of 9,50 €, it is difficult to find a wine as good as La Canorgue.
Château La Canorgue, Luberon - Cuvée Rouge 2012 - Price: 9,50 € tax incl.
http://chateaulacanorgue.com
The wine magazine of France.
http://www.larvf.com
Organic wine: Favorite for the castle La Canorgue in the Luberon
Provence Luberon Sotheby's International Realty: Your expert in
prestigious real estate in the Luberon and Provence
.
The latest news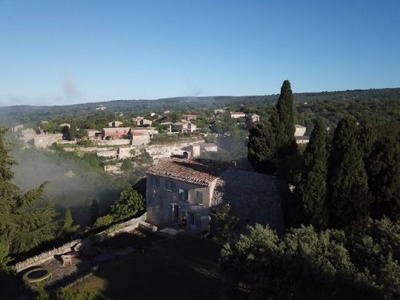 4 good reasons to buy in the Vaucluse.
Whether you dream of a Provencal farmhouse lost in the beautiful countryside or a pretty townhouse in the heart of the action, there are many reasons to come and live in the Vaucluse. Let us share with you the different reasons why a real estate project in the Vaucluse could be for you. The Vaucluse department is part of the Provence-Alpes-Côte d'Azur region. The population is homogeneous with...
Read more