Contact us
Provence Luberon
Sotheby's International Realty
Place du Château
84220 GORDES, France
Provence Luberon
Sotheby's International Realty
97 place du 8 Mai
84380 MAZAN, France
>
>
Posted on 02/03/2021
Discover the wines of the region of Ventoux and its surroundings.
The Mont Ventoux best wines

Like many regions in France, to discover its essence you have to be able to taste it. The wines of the region of the Ventoux are part of this discovery. In the Ventoux region and its surroundings, you will navigate between reds with body, dry and fruity whites and of course the rosé which has experienced increasing popularity in recent years. You will have plenty to choose from. Here is a selection of wineries that will allow you to explore the region and these wines.
Tucked admits the olive trees is the beautiful old stone building that will make you say ahhh Provence. It is in this picturesque setting that the vineyards of the estate are found. You will find the main representative grape varieties of AOC Ventoux. Grenache, Syrah, Carignan and Mourvèdre for the reds, Grenache Blanc, Roussanne and Viognier are intended for white wines. Grenache noir and carignan in direct pressing are for the making of the fresh and fruity rosés. The owners welcome you in their 17th century stone farmhouse. Authentic Provençal experience guaranteed.
Located in the heart of the Rhône valley at the foot of Mont Ventoux, this third generation family wine estate will help you discover this part of the terroir. Wines made with elegance in a sumptuous setting where a sublime Provencal castle awaits. You will be able to discover the vineyard path, have truffle based meals, wine tastings and participate in an introductory oenological workshop.
In a charming townhouse made of old stones with beautiful vaulted rooms, you will find the cellar of the town of Vacqueyras. One of the wines of the Côtes-du Rhône, the region produces excellent reds, but the cellar will make you discover all the gems of Ventoux with their wide wine selection and their very warm and above all expert staff. Nothing could be easier than just letting yourself be guided.
——————
Have you fallen in love with more than just the wines of the region and are looking for a secondary home or a farmhouse or settle down to live in Provence? Come and see the most beautiful properties in the region on our site.
The latest news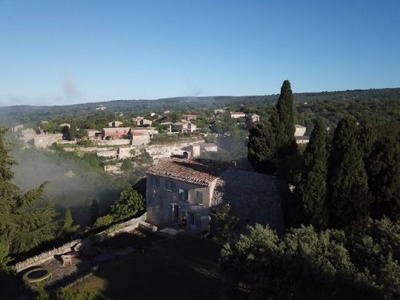 4 good reasons to buy in the Vaucluse.
Whether you dream of a Provencal farmhouse lost in the beautiful countryside or a pretty townhouse in the heart of the action, there are many reasons to come and live in the Vaucluse. Let us share with you the different reasons why a real estate project in the Vaucluse could be for you. The Vaucluse department is part of the Provence-Alpes-Côte d'Azur region. The population is homogeneous with...
Read more