Contact us
Provence Luberon
Sotheby's International Realty
Place du Château
84220 GORDES, France
Provence Luberon
Sotheby's International Realty
97 place du 8 Mai
84380 MAZAN, France
>
>
5 reasons to move to the Vaucluse. 
houses for sale in the Luberon

5 reasons to move to the Vaucluse.

There are multitude of reasons one can find to decide to move to our beautiful region that go way beyond the sunshine and the warm weather. Let us give you our top 5 reasons why the Provencal life could be just the thing for you.
You will easily find space and quiet. Living in the Vaucluse means you can consider purchasing one of the beautiful houses for sale in the Luberon or a gorgeous Bastide in the region of the Ventoux, that will enable you to be close to nature and to have a garden where you will be able to enjoy the easy going pace that life in Provence has to offer.
A wide choice of activities can be found. The Vaucluse offers many infamous sites to go and explore that are really unique. Whether you are a lover of hiking, a biking aficionado, or are passionate about roman ruins, wanting to walk on the steps of the Via Domitia, be it in the Luberon or the Ventoux, you will have something to do.
It is a region that is well connected. With easy access to the rest of the country thanks to its TGV train stations in Avignon and Aix-en-Provence, or the Marseille airport less than an hour away, travel is always an option. You could even just jot down from Paris in 2h20 minutes and enjoy a few days poolside in you Provencal mas.
There are many charming villages to explore. Whether you are in the Luberon or in the Ventoux region, there are many stunning villages to discover. Go buy your fruit and veggies from the Saturday market in Pernes-les-Fontaines or marvel at the view points in Gordes where you will the cliff side peached villages like nowhere else.
A quality of life that is hard to beat. Everyone knows that the pace of life is different in Provence. The sunshine will bring you a smile, the rosé will make you want to have ape's that delightfully linger and the pétanque tournaments in the town square will bring that touch of authenticity that can be imitated. Life here is just all about enjoying it.
The latest news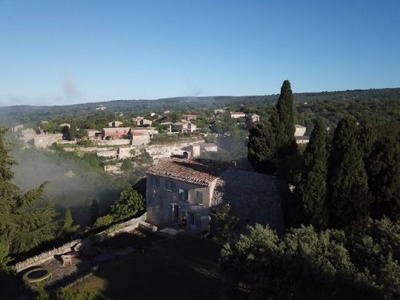 4 good reasons to buy in the Vaucluse.
Whether you dream of a Provencal farmhouse lost in the beautiful countryside or a pretty townhouse in the heart of the action, there are many reasons to come and live in the Vaucluse. Let us share with you the different reasons why a real estate project in the Vaucluse could be for you. The Vaucluse department is part of the Provence-Alpes-Côte d'Azur region. The population is homogeneous with...
Read more