Contact us
Provence Luberon
Sotheby's International Realty
Place du Château
84220 GORDES, France
Provence Luberon
Sotheby's International Realty
97 place du 8 Mai
84380 MAZAN, France
>
>
Nature: The secrets of the olive in Provence
Discovery routes of olive oil in Provence

The itineraries around the olive 11 circuits around olive oil allow, throughout the year, during marked walks in the fields of olive trees followed by visits of the mills and tasting of olive oil and tapenade, to discover the landscapes of olive trees so typical of Provence, the region between Mont Ventoux and Dentelles de Montmirail in the south of the Luberon:
- In Beaumes de Venise, the itinerary of the Moulin de la Balméenne, created in 1856 by the village lord, the Marquis Gaudemaris
- In Caromb, you will be welcomed by the 4th generation of this family of olive growers.
- In Malemort du Comtat, the itinerary of the Moulin la Colombe, built in 1930
To know: A tree gives between 15 and 50 kilos of olives. Four to six kilos of olives are needed to get 1 liter of oil.
The Aglandau produces an oil with the taste of artichoke and almond with powerful aromas which benefits from the AOC "Oil of Haute Provence"; six communes of the Vaucluse are attached: Beaumont de Pertuis, Grambois, Peypin d'Aigues, Mirabeau, La Bastide des Jourdans, Vitrolles in Luberon.
La Tanche, in addition to the oil, gives tasty table olives, preserved in black, which benefit from the AOC "Olive black from Nyons"; 18 communes of the Vaucluse are integrated in this appellation: Brantes, Buisson, Cairanne, Crestet, Entrechaux, Falcon, Malaucène (in part), Puyméras, Rasteau, Roaix, St Marcellin les Vaison, St Roman de Mallegarde, Séguret , Vaison, Valréas, Villedieu, Visan.
Since 2006, the AOC "Olive Oil of Provence" protects and guarantees the quality of the production of olives from 115 communes of the Vaucluse located between Mont-Ventoux and Luberon. This AOC has two denominations, depending on the work carried out on fresh olives or mature olives; if more than three days elapse between the harvest and the crushing of the olive, the name shall be supplemented by the words "matured olives".
Provence Luberon Sotheby's International Realty: Your specialist in
luxury real estate in the Luberon and Provence
.
The latest news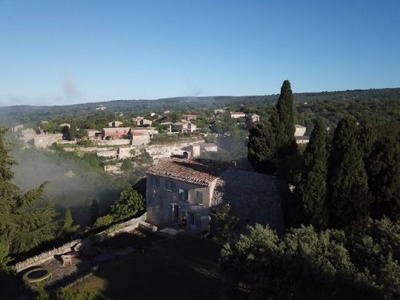 4 good reasons to buy in the Vaucluse.
Whether you dream of a Provencal farmhouse lost in the beautiful countryside or a pretty townhouse in the heart of the action, there are many reasons to come and live in the Vaucluse. Let us share with you the different reasons why a real estate project in the Vaucluse could be for you. The Vaucluse department is part of the Provence-Alpes-Côte d'Azur region. The population is homogeneous with...
Read more