Contact us
Provence Luberon
Sotheby's International Realty
Place du Château
84220 GORDES, France
Provence Luberon
Sotheby's International Realty
97 place du 8 Mai
84380 MAZAN, France
>
>
"Racines & des Ailes » in Vaucluse
Documentary "between Ventoux and Luberon"
In May 2013, a team from France 3 came to shoot images in the Vaucluse for the program "Des roines et des ailes". The channel has a following in the ideas since it is almost a year after that will be broadcast the broadcast of 110 minutes "Entre Ventoux and Luberon". Thanks to the advances in technology, we will for the first time attend a virtual visit to underwater cavities in Fontaine-de-Vaucluse. If no diver has yet found the bottom of the abyss, many divers, sometimes risking their lives, have made scientific dives. Tonight, millions of viewers will dive. The light will be even more beautiful when the cameras will also present Isle-sur-la-Sorgue, through the passionate words of the archaeologist François Guyonnet.
They climb the Ventoux by night
The Mont Ventoux was on the televisions of the whole world last July thanks to the Tour de France. But the public television offers another look with the members of the cycling club of Saint-Didier Amistadou, who climb the giant of Provence even at night. Another report concerns the cathedral of the upper town of Vaison-la-Romaine, which reopened its doors last August on the occasion of the Choralies, after years of repair every Sunday by volunteers. These wanderings in Vaucluse will also pass through the ochres of Gargas. A magical place where Jean-Louis Aubert made two unique concerts a few years ago. Finally, if our department is the leading producer of cherries in France, the director has chosen to go to see those of the Venasque mountains. Frédéric Ruel, head of a 25 hectare farm in Villes-sur-Auzon, will tell us all the sweetest secrets about this fruit distributed in delicatessen.
"From the Ventoux to the Luberon" on France 5.
Bernard Sorbier
Provence Luberon Sotheby's International Realty: Your expert in
luxury real estate in the Luberon and Provence
.
The latest news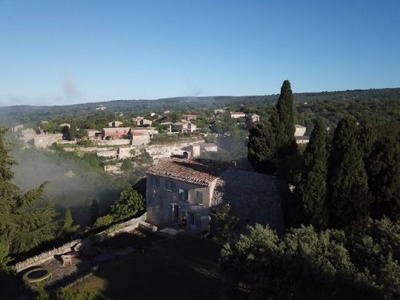 4 good reasons to buy in the Vaucluse.
Whether you dream of a Provencal farmhouse lost in the beautiful countryside or a pretty townhouse in the heart of the action, there are many reasons to come and live in the Vaucluse. Let us share with you the different reasons why a real estate project in the Vaucluse could be for you. The Vaucluse department is part of the Provence-Alpes-Côte d'Azur region. The population is homogeneous with...
Read more