Contact us
Provence Luberon
Sotheby's International Realty
Place du Château
84220 GORDES, France
Provence Luberon
Sotheby's International Realty
97 place du 8 Mai
84380 MAZAN, France
>
>
People who love the Luberon
Augustin de Romanet, CEO of Paris Airport

The president and CEO of Paris Airport disconnects in the middle of the plains of Lubéron
An airplane takes off and lands 24 hours a day. As such, it is hard to imagine that the boss of the Paris airports (ADP) can himself stand back and disconnect from his daily life. He confesses, moreover, that "the idea of ​​stopping to work never crossed his mind." However, he tries to do so by sailing as soon as he can in the south of France, where he owns a house.
Augustine de Romanet will be in the Luberon for twenty days this summer. This is where he will apply his favorite recipe to disconnect: "no longer have a diary". "Having the time to waste your time is something totally magical," says the CEO, who seems ready to blend into this daily without appointment or obligation.
But as the air traffic continues tirelessly, he will give a little of his time, "almost an hour a day", to his work. "It's not unpleasant at the end. What is more brutal, it is to resume after having totally cut off ".
As an amateur of piano, Augustin de Romanet will go, neighbor and as every year, to garnish the terraces of La Roque-d'Anthéron, "the best festival of the world". A passion he shares with one of his sons.
It is surrounded by his friends of the region and with always a lot of music, mainly of the Schubert, that the leader likes to disconnect from its very taking daily. And the magnificent scenery of the region is suitable, it allows a maximum time to walk.
An activity he does not reserve for his holidays. On a daily basis, if he needs to clarify his ideas or to bring down the pressure, the original Boulonnais goes to walk along the banks of the Seine. Helmet on his ears, he walks about 15 kilometers a week, applying a recipe of the Buddhist monk Matthieu Ricard: "To be healthy, you have to walk twice twenty minutes a day as fast as possible." What to maintain good karma and hope that its airports are not too affected by the strikes.
credit photo
http://www.plur.is
Facts - How politicians, media, or culture disconnect during the summer ...
"Augustin de Romanet, the art of the loss of time in the Luberon"
http://www.lopinion.fr/2-aout-2015/augustin-romanet-l-art-perte-temps-1630-26753
The latest news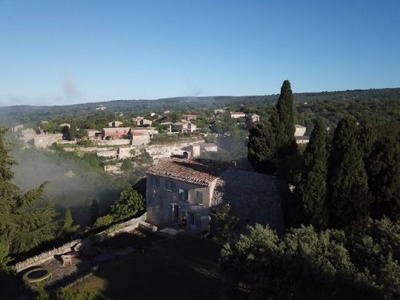 4 good reasons to buy in the Vaucluse.
Whether you dream of a Provencal farmhouse lost in the beautiful countryside or a pretty townhouse in the heart of the action, there are many reasons to come and live in the Vaucluse. Let us share with you the different reasons why a real estate project in the Vaucluse could be for you. The Vaucluse department is part of the Provence-Alpes-Côte d'Azur region. The population is homogeneous with...
Read more