Contact us
Provence Luberon
Sotheby's International Realty
Place du Château
84220 GORDES, France
Provence Luberon
Sotheby's International Realty
97 place du 8 Mai
84380 MAZAN, France
>
>
Explore the Vaucluse by hiking
Discover the natural beauty of Provence on foot

You can enjoy the sweetness to discover the hiking trails in Vaucluse, there are almost 3,000 kilometers of paths that are marked in the department. There is no shortage of opportunities for walking shoes.
Easy to hike in Vaucluse, where nearly 3,000 kilometers of trails are marked, from the Ventoux to the Luberon through the most beautiful scenery of the Vaucluse.
The great variety of landscapes of the Vaucluse is the result of a contrast between plain and mountainous massifs.
To the west, the Comtat plain formed by the deposits of the Rhone and its tributaries, the rivers Lez, Aygues, Ouvèze and Durance. The Durance is the southern natural boundary of department 84.
In the silty lowlands of this plain, the Mediterranean climate and irrigation allowed the intensive cultivation of fruits and vegetables sheltered from the mistral by cypress hedges.
The tall, stony terraces, drier, bear A.O.C. vineyards: Côtes du Rhône southern, Côtes du Ventoux, Côtes du Luberon, and orchards (cherry trees, olive trees among others). All around, from the north-west to the south-east, rise the mountain massifs.
The hills of Haut - Vaucluse, dotted with truffle woods, and the Dentelles de Montmirail.
In their extension stands the Mont Ventoux, the "Giant of Provence". From its summit you will enjoy a unique panorama: the Alps, Massif Central, Languedoc, Provence to the sea.
In the center, the Monts de Vaucluse (1256 m) and the Plateau d'Albion with the Gorges de la Nesque
Finally, the Luberon, Petit and Grand (1125 m), reconquered by the forest (cedars in particular) which dominates the Durantian plain and the Pays d'Aigues in the south, and the Coulon / Calavon valley to the north, with geological curiosity of ochres in Roussillon, Colorado Provençal
The diversity of landscapes, the quality of the Mediterranean climate, the richness of the historical remains, not to mention the ease of access, make the Vaucluse a true paradise for hikers.
https://www.rando84.com/
The latest news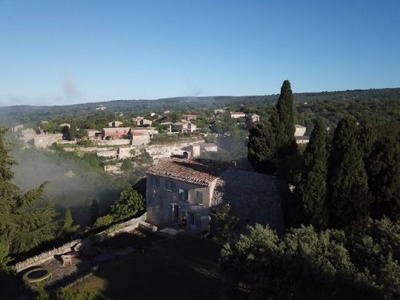 4 good reasons to buy in the Vaucluse.
Whether you dream of a Provencal farmhouse lost in the beautiful countryside or a pretty townhouse in the heart of the action, there are many reasons to come and live in the Vaucluse. Let us share with you the different reasons why a real estate project in the Vaucluse could be for you. The Vaucluse department is part of the Provence-Alpes-Côte d'Azur region. The population is homogeneous with...
Read more