Contact us
Provence Luberon
Sotheby's International Realty
Place du Château
84220 GORDES, France
Provence Luberon
Sotheby's International Realty
97 place du 8 Mai
84380 MAZAN, France
>
>
Interview Pascal Danneau | Provence Luberon Sotheby's Realty
Luxury Marketing for Luxury Real Estate

We interview Pascal DANNEAU, director of Sotheby's Luberon. This luxury agency addresses a second home market with an international clientele. Pascal DANNEAU gives a very careful attention to all his visuals to share the art of living of this preserved region. He talks about his marketing approach with shots, videos with drone, his website, his projects around storytelling / reporting.
Here is an agency boss who tests, clears and innovates to best meet the expectations of his clients!
video interview of blog Marketing Real Estate.
Lionel LATHAM
: Welcome to the Real Estate Blog. Today, we meet Pascal Danneau, Director of the agency Sotheby's Luberon. Good morning Pascal.
Pascal DANNEAU:
Good morning, Lionel.
Lionel LATHAM
: So Sotheby's, everyone knows the house of prestige. You work for the real estate side of this big auction house. And for Sotheby's France, especially, which brings together 50 agencies, and you are responsible for the Luberon zone. Today, we would still be very curious to discuss with you on the marketing aspects that you practice on goods that make everyone dream. And clients who are in Luberon, I imagine. Essentially everything but residing in the Luberon. So there's a remote approach to managing. This is where marketing has to play quite a bit. Maybe you can introduce yourself, present your agency a little and how you operate within the network. Very quickly, then we will deal with them.
Pascal DANNEAU
: We joined the Sotheby's group in 2007, which today has 50 offices in France and 700 offices for the world. It has been implanted in 51 countries. We locally represent the brand for the Vaucluse and more particularly for the Luberon. The office opened in 2007. Before, we were a classic agency. We were hunted from 2006 to become Sotheby's, and we accepted very willingly.
Lionel LATHAM
: All right. so at a time you were finally independent, and you joined a national network and, more broadly international. Sotheby's internationally, in the luxury sector, it is one of the first networks. I do not know how it's positioned by the Coldwell Banker or others, but let's say it's in the Top 5.
Pascal DANNEAU
: Certainly in the Top 5 and I might even say in the Top 3. Rather with Christie's or that type of brands. Coldwell Banker is perhaps a little below in terms of quality. In any case on France. In the United States, they have a larger presence, but Sotheby's is also very present in the United States.
Lionel LATHAM
: All right. Clearly, for you it was another adventure to enter into a network. Maybe we can talk a bit about luxury to see what that defines? From what amount, what customer profile? And what exactly motivated you to join an international network.
Pascal DANNEAU
: What defines luxury? As you said, it is often the price unfortunately. It is also the quality of products, products of exception, products of character. It is a little spearhead of the agency. Obviously, there is often a price impact by quality and location.
Today, the Luberon is an international spot. There is a great demand from abroad for quality of goods, for quality of life, or for the environment. For the internationally connected side, whether by TGV, by plane (because it is 50mn from Marseilles), or by the motorway (we have 15m, from a motorway exit to Carillon on 7). This is what customers are looking for today and this is what will also fuel the image of luxury. In order to give an order of ideas, today, properties range from one million to thirty million in the Luberon.
Lionel LATHAM
: So, there you sell Provence that makes a little dream everyone. including the Americans, but especially the Luberon which also has its letters of nobility. When you say a million, is that your starting price? What can we buy for a million in the Luberon?
Pascal DANNEAU
: In the Luberon, with a million, we find a pretty village house with a small lot, a beautiful view. There can be a swimming pool. Four bedrooms. It can also be a classic house with a plot of land. You can still find housing, and even for less than a million. Afterwards there are capitals like Gordes that make it difficult to access because the price per square meter is still not given. But we still manage to stay quite easily.
Lionel LATHAM
: And where are your customers buying? They are not in the Luberon, I suppose? Are these people buying for their second home? Is it placement?
Pascal DANNEAU
: This is a very typical second home market. In any case, there is no transaction in principal residence. This is extremely rare. That may be around 1%. What is remarkable is that this year, for example, I measured almost 60% of foreign customers in the acquisition, against 40% for the French clientele. And still, when I say French clientele, unfortunately, it is often a clientele that is going to be expatriate: a clientele who can live in London and who seeks to refocus in family in France and, why not, in the sun. So Provence is often unanimous for this kind of family reunion.
Afterwards, the provenance fluctuates year after year, according to the successes of the countries with which we work. For example, this year we have worked a lot with Shanghai, Singapore, Hong Kong. They are people with whom we did not work the year before, and I do not know if we will work with them next year. So we had different clients. We worked with the countries of the east in 2012. We worked a lot with Belgium. We worked a lot with the Americans. Depending on what we have known (the economic cracks, the evolution of certain currencies), it fluctuates in terms of the nationalities of customers.
Lionel LATHAM
: All right. So you sell the attractiveness of the area and also a good investment. I guess it's a place where even if you buy properties that may seem overpriced for a classic real estate purchase, it's still a good investment. And you find yourself there beyond the momentary fluctuations of the real estate market.
Pascal DANNEAU
: What confirms me in this idea: last year, we still had big national groups that invested a lot of money in a hotel in Gordes. It is quite localized, it remains once again at the level of the capital of Provence. But they invested several tens of thousands of euros to take over the establishment, bring it up to the palace regime and bring Pierre Gagnaire to open a restaurant.
So I think that if this type of well-established investor chooses Gordes or the Luberon, I think they are studying. And indeed, today, most of our customers are also paying attention. When you commit several million, even if it is a purchase "pleasure" or a purchase "passion, it is still the price of some corporate buyouts. So there are studies of "profitability" that are carried out.
If we have this foreign clientele and if we manage to attract large groups of investors, it is still a good spot. Investment is sustained.
Lionel LATHAM
: Okay. So, you understand: you, you sell dreams.
Pascal DANNEAU
: It's not a dream, it's reality.
Lionel LATHAM
: You make people dream anyway. They are subjects of passions, second homes in a magnificent region. We're going to talk a little bit now about the digital approach to luxury sales. How do you see things in relation to the luxury market and a more classical real estate market? How do you handle things digitally?
Pascal DANNEAU
: One of the great news of the moment: the Sotheby's group has just joined forces with Apple to participate in the Apple News application. We are one of the 20 privileged partners of this adventure. So in the digital, we will be able to really touch all the customers iPhone, iPad, Mac and others.
In the digital world today, there are the actions that can be carried out at an international, national and then local level. That's the big news of the moment with Apple. It's really a scoop that I give you.
Lionel LATHAM
: Okay. So you are looking for quite strong associations with iconic brands like Apple, which will actually be a reference for all your customers. There we are looking at your site. You have an extremely visual site. Very nice quality of presentation, where we put everything on what I called the dream just now. Typically, you can afford to do that, investing in it obviously. These are not pictures you take like that, quickly. You can afford to do it because you have a golden subject, extremely attractive and attractive.
So this is one of the differences compared to the more classic real estate that may not be able to afford to put a studio in the outskirts of the big screen.
Pascal DANNEAU
: In addition, we have a natural subject that is easy to take a picture. It is true that when you have a blue sky behind a house, olive trees or lavender, it is immediately speaking.
I wanted to come back to digital partnerships. Of course we at the local level represent the brand with the site you are showing, which is called www.provence-luberon-sothebysrealty.com, but also a national site. And also an international site that is even more visual: www.sothebysrealty-france.com. You will see that it is only movies today, which we have not yet wished to put in place because we believe that this is not yet the moment in France. Even though, you will see, we have made films from drone, mainly for rental.
But with this international site, www.sothebysrealty.com / fra, we have agreements with the Wall Street Journal and with major American press groups that take all our information. There, you can see on the site that it is completely visual, we really have high definition. In full screen to represent regions, products, properties and make, of course, dream.
Lionel LATHAM
: Okay. And there, in fact, we are no longer presenting the properties, we show a certain paw, a know-how and a positioning in terms of approach of goods. This is what you want to show through the videos.
Pascal DANNEAU
: Yes. It's a lifestyle, actually. More than in the product, one is now in the lifestyle. The art of living. Each region, each country ... To go to seek the quintessence of the most beautiful places, the most beautiful properties.
Lionel LATHAM
: All right. So you, the investment you make as a luxury real estate agency, is a lot in the visuals. It goes through the photo, it goes through the video. That's something you're paying a lot of attention to. You, especially, I know that you are quite fond of photos and you always had very beautiful visuals. You spend a lot of time there.
Pascal DANNEAU
: I spend a lot of time there. It's true that the people I work with are passionate about photography. And it helps a lot too, because we know that it is the first vector of presenting a good today. This is the picture.
We pay attention to the people we work with, to have good equipment. Maybe take some lessons. Know how to lay a frame. Present at best a property. This is important to us because, as I said, we work a lot with foreign clients and often we need to hang them on the visual. If, from the start, we have pictures of poor quality, it will not cause them to call us. Even if the region makes dream, the photos remain paramount even in the hook of the customer today. It's primordial. This is the first communication vector for us.
Lionel LATHAM
: Is that something you do internally, then?
Pascal DANNEAU
: We do it internally because I have the chance to have collaborators who are well equipped with equipment. But we also do it, sometimes, with professionals because we can not be on all fronts.
Some customers want it to be through a professional, they do not always understand that you can be the real estate agent and the photographer.
Lionel LATHAM
: Yes, that's a real question because we often approach photography through hardware or the ability to take a picture through a smartphone. Or even a video. Now, that's not all. When one looks at the photos, one sees that there is an attention and a look. One eye for that.
Pascal DANNEAU
: What better eye than that of the real estate agent to take a picture, in fact? Because he knows what he is going to present to his client. Of course one can work with professionals, but often I am confronted with people who are more specialized in decoration or in hotel work. Finally, professionals for exceptional properties. It is not really a very buoyant niche, I do not know. That's why we are developing our own style of photos.
Lionel LATHAM
: All right. In any case, they are very beautiful. And so, how is it going? Do you have your contacts who come directly from the website? Because there, you have a public part that you show on your site. After, concretely, how come the customers?
Pascal DANNEAU
: As you should know, I would say that 20% is public and 80% is confidential for obvious reasons given the world we work with. But it is true that we do a lot of push with the customers who have left their requests and contact details.
We do a lot of pushing too via Sotheby's, because we must not forget that we have 700 offices in the world. And also many auction houses with which we are connected all over the world.
So we have a system of communication with our own brochures, which are sent around the world and represent the goods we have for sale.
Lionel LATHAM
: Are we talking about paper brochures?
Pascal DANNEAU
: Yes, of course. Paper brochures. Of course, we have all the digital and digital system to send, which is much heavier and more important. Either with PDF systems or presentation, which are real little magazines of presentation. But there are the pamphlets. Obviously, we also have the own press on Sotheby's. We have clean press too sometimes, locally.
We can edit, but I would say that the bulk of the work today is still the Net. Sales are still recorded directly, via the site. What we did not do in the last 5-10 years. And today, that's why we make sales directly on the Net. Not necessarily foreigners, but also Frenchmen. I also measured it.
Lionel LATHAM
: There you were talking about the print, just now. That is what you were doing before, that you continue to do. And is it being marginalized or is it still for the luxury clientele?
Pascal DANNEAU
: It's marginalized for buyers, but it's still very important for the field. We still need to rely on prints to get contact identified on the ground.
Lionel LATHAM
: Yes, that's something you're putting on. But you are not sending out pamphlets to a series of potential customers around the world.
Pascal DANNEAU
: It's also part of the system. We have specific programs to send brochures or magazine.
Lionel LATHAM
: All right. What about social networks? Because, actually, it has the site with its 20% in public. It already allows you to get a glimpse of everything you can have at the moment. And afterwards, we have already discussed, there is a real game of bridge between the people who come to discover the region through rentals and who, then, may decide one day to settle. So, it's not people who come in like that, from head to toe.
And finally, through the rentals and the affective of the region, your Facebook page is a bit of the link you are trying to make.
Pascal DANNEAU
: You will notice that we do not have many things to sell on the Facebook page. We are rather in the art of living, how we live with us. In a cultural way, the restaurants, the evenings, what there is to visit.
It's quite festive, though. And that's what we want to show too. Do not think this is just a green place where you can walk or cycle. It is also a lot of culture, very beautiful places to visit and lots of festivals.
Summer is very rich between Avignon, Aix, Pierre Cardin and Lacoste. Each village, like Gordes, has its own artists who come during the summer. It's quite complicated to know where to go. It's very rich. Much richer than winter, of course. In winter, we really find the Provence of origin.
Lionel LATHAM
: All right. So, you're here to give a little bit of a continuous thread over the course of the year. Because these are people who come on holiday, so in the best seasons. You discover the region as a whole. With all its aspects, not just the postcard part.
Pascal DANNEAU
: It's not just the real estate part.
Lionel LATHAM
: It is not the real estate part, but especially the art of living. Okay. And there you have 1,500 people. These are people who have strong relationships. They interact, they participate a little on the Facebook page. Do you consider it a source of prospecting? Or is it not easy to measure?
Pascal DANNEAU
: Indeed, it is a potting soil that has potential for prospecting, of course. Otherwise, we would not. It is above all an image. It is relaying the image through social media to make even better known that part of France that is the Luberon, which is somewhat diluted in Provence. Since it is true that the word "provence" is much more clicking than the word "luberon".
So, working through social media, is to make known this little preserved area of ​​a regional park in Provence. Show activities that can be found there. Show the beauty of the site. That's the idea. Of course this can trigger, but it's very complicated to measure who comes from where even if asked, since one is also on Pinterest and other social media.
Often, people tell you they come from the site. But to get to the site, is it by Google or Google+? Is it by Pinterest or not Facebook? It is difficult to measure it.

Lionel LATHAM
: And you do not do landing pages, for example, with Facebook ads or, even, Facebook ads in general? Not necessarily attached to a lead generation operation, but to promote the page. And precisely try to associate the word "luberon" with Provence. Because, indeed, there is a small deficit of notoriety at this level that could be filled by an advertisement with all the audience, who likes Provence in general.
Pascal DANNEAU
: We have really tried to make an almost viral and natural development. Playmates who invest a lot and who do a lot of promotion on certain pages. But I prefer to stay in something natural, to keep this relational with customers who are connected with us. Rather than making one shots to virtually raise the number to 5,000. It's not very complicated. We all know how to do today.
Lionel LATHAM
: Perfect. And so, all this, it will be very interesting. We also talked about something that you have been doing for a few years, and that is getting richer over time. So those are the videos. Do you do that for the rental market? We are not in the same context for the sale?
Pascal DANNEAU
: No, I do not. As we said earlier, in addressing the issue of confidentiality, we are going to go rather on rental than on sale. On the site, we can see that we have perhaps a dozen or fifteen videos that are currently in place. We're improving these videos.
There, one for project in 2016 to really work the web technologies, inlay in the videos. You know that in the United States, we often have a stakeholder or real estate agent who will be chatting live. We talked about it through a site.
At one point, we worked together on www.provencechic.com where I was almost as an interviewer or presenter to give more life to the film. The new idea would be to remove the character to have an inlay, to truly be in the image and information. To have shorter, stronger, more powerful formats. And to be able to "travel" more easily these videos that are currently watching, these are videos that make about two minutes.
This is interesting for renting because the customer can really project themselves in the house, outdoors, in the environment. But we can perhaps imagine a shorter format to have a more punchy impact and make the video travel further and diffuse it much more.
Lionel LATHAM
: By staying on the hiring, indeed, your presentations of two minutes, it really gives the time to discover both the place and its environment. It is very well done. There are views of drones, it's very nice.
On a sale, would you rather be in teaser mode? To show a little extract of what could be, preserving the authenticity and which, at the same time, would unveil a little bit that would make you want to go further.
Pascal DANNEAU
: There, Lionel, we share exactly the same vision. I think, indeed, that for an acquisition, it is necessary to remember that the customer, in the purchase, is customers who are essentially there envy. Not necessarily by need. As you said, we sell a little of the dream, and that's what they come for: dream.
I think that unveiling a dream right away, on a video, does not help to go in that direction. The teaser seems to be a good solution. We tested it, but we will go further this year 2016 with a very short format, inlay and see how it works by pushing this video just like we do with print, press. And to see precisely if one pushes these documents in the same way abroad and measure it.
Lionel LATHAM
: All right. The idea of ​​the teaser, it preserves confidentiality, but for you it is not a good idea to be too in too exhaustive a presentation because it finally breaks the dream a little. And you seem to feel that things are going better, you do more "conversions" with a teaser and then a bit more discovery on the spot. That's it ?
Pascal DANNEAU
: We tested it. I did not find it very convincing to return. Sometimes, it may or may not give the customer a desire to come. If, in the end, the film has not been shot properly or the shots are not done properly, it can have a negative effect on the property. While this was not at all the desired effect initially.
Lionel LATHAM
: Okay. There, we are on a lease, a good on the market which, finally, generates a small rent on a regular basis, even if there is work to be done. For the rental, in this context, it is you who invested in the quality of photos, video and all that. In fact, you do marketing for your client at your expense. Do we agree on that or is it something you sell to your client?
Pascal DANNEAU
: Now, prices are much more affordable than they were even two years ago. I'm talking about drunks, for example. We have a schedule of rates that are much more accessible today. This allows us to really finance it. Previously, it was true that we had asked for customer participation.
Lionel LATHAM
: Can we get an idea? To make a two-minute video like that, with a drone?
Pascal DANNEAU
: On a basis around 1,000 €. In return for the investment of the customer, as you can see on the site, we had a policy of making the announcement go first.
Lionel LATHAM
: All right. So, you offer more visibility. The client invests. And so, mechanically, it assures him of beautiful commercial entries.
Pascal DANNEAU
: Absolutely. It's really a give-and-take deal. It's simply win-win.
Lionel LATHAM
: All right. And in the case of a sale, for example, make videos less associated with a particular good. But make videos that sell the region, sell your positioning around the lifestyle you were talking about, and styles of home. That is something that is being done, that is being considered or that might make sense?
Pascal DANNEAU
: In the same way, in fact, it would be to retranscribe the Facebook page, everything we could explain about what we could find when coming to the Luberon, to do it through a film. We had started something through the villages, but that is not what we want. These are almost big productions, in the end. Because you have to be there at the time of great ideas, at festivals. It really requires an investment with a small prod behind, editing ... It becomes ultra professional, at our level.
Lionel LATHAM
: All right. I compare a little, and even regularly, the American and French or European approaches. There is something that does not necessarily show much by looking at your site in general. It is, in the end, the people of the agency, including you. There is not necessarily put forward.
You show the properties, you show the area. Is it by choice or do you think there is a place for some kind of personal branding? I know you. We've already worked together and I know you. I know how conscientious you are, who has an excellent command of the subject.
I would tend to say that for a client who does not know you well, see how you work, how you talk about your region with passion, it can also be a way to say "I'm not just Sotheby's. Behind Sotheby's, there is Pascal Danneau who is a lover of the region, who knows his market very well. And so, I want to trust him. That's kind of a reflection. Have you ever asked yourself the question?
Pascal DANNEAU
: Then listen. That's part of next year's project. We have already talked about this. I have also worked with the United States, it is something that is ultra-developed. I have worked with US real estate brands also before. They are ultra-developed in the United States.
Culturally, in France, it is not always necessarily well appreciated to put the agent in front. I think it's very cultural. You know, I see it on the visiting cards. We still have visiting cards in American format, with the picture on it. The reception is sometimes mixed. It feels like a little out of the ordinary. Some find it a good idea, others less.
Marketing today, by putting oneself forward as we do in the United States - I was trained in this sense, I am not sure that the reception is ultrafavorable with us. Even on the films that are in preparation, especially the presentation of teams through the setting up of agencies in a film, in situation, it remains quite soft. We're not going to do it in the American way where, really, it's the agent before the agency, and before the product.
It is a real reflection, we will come. As with everything, the Americans always rallied us to the cause. As geolocation that is very developed in the United States and finally arrives in France. We talked about it a year ago. We feel that this is a phenomenon that is happening. I think the agent's marketing will also set up at some point.
Lionel LATHAM
: All right. It seems clear and interesting to me. To summarize. The website is a real business card to sell visually to both the region, but especially a little the style of your properties. The Facebook page is more about a section "Art of living" in this region of the Luberon. And then there are the European and international relays of the brand that are there to strongly support the Sotheby's brand and the image behind it.
There are a lot of things in the boxes, a lot of stuff in the video, with video clips, potentially teasers for sale and a little better video rentals. Where do you get your inspirations from?
Pascal DANNEAU
: It's the air of time. It is observing what is going on around us. It's the RENT. This is also happening in the United States. And then, it's putting yourself in the client's shoes and being empathy. Try to find what you could like. Or, me, please. Compared to what we see today.
Inspiration is also about clearing up. I do not know what it's going to be like, we'll talk about it next year or at the end of the year to see if what has been put in place has worked or not. If we met our "public", or not. I can not tell you today. The blow of the teaser, I really want to see what it will give, especially how we will work it in techno. But here, I have no return, it does not happen, we do not know.
We can debrief it at the end of next year.
Lionel LATHAM
: All right. Perfect.
Pascal DANNEAU
: It is an operation in relation to this idea, we will really have a measure of return. I could really give you a percentage, how it worked? Who, what, how, on the whole world.
Lionel Latham
: Can we imagine that with the progression of the digital to get in direct contact with these customers, that finally, the cap Sotheby's (I speak of Sotheby's but it is the example of a network on which an agent would need to rely on), may lose interest or can it allow an officer to come out independently and meet his audience? Do you consider that in luxury, the network will remain an essential, unavoidable pillar.
Pascal DANNEAU
: I think it remains a bit unavoidable. You know, even today we work with applications, things much simpler. Like WhatsApp where you get to be in constant communication with our customers, or with clients and the notary. You can set up communication groups to be connected at any time. With picture, with message.
I think we can not go against it, we can only go with it. We must keep our local added-value in the luxury that I think will always be present. It's always desirable. There is also a clientele that needs to be guided and accompanied. Arriving in a foreign country is not just about buying a house. This is guiding customers. There is this local side, and there is this digital side too. The two go hand in hand. Really. Over all. That's why I think it's unavoidable today.
Lionel LATHAM
: All right. Perfect. It is true that it is interesting to make a small point of step. There, for two years already, you have made a very good progress on the video. So we make an appointment for next year to make a point and see if there are new advances. A big thank you and we wish you much happiness to share this beautiful region of Luberon with everyone.
Copyright: Real Estate Marketing - November 13, 2015
http://www.marketingimmobilier.co/interview-de-pascal-danneau-marketing-de-luxe-pour-immobilier-de-luxe-avec-sothebys-luberon/
The latest news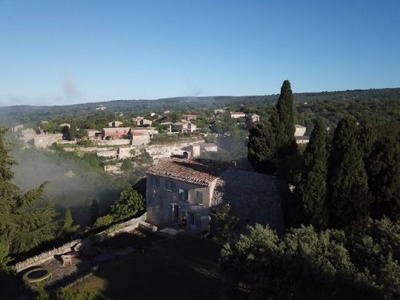 4 good reasons to buy in the Vaucluse.
Whether you dream of a Provencal farmhouse lost in the beautiful countryside or a pretty townhouse in the heart of the action, there are many reasons to come and live in the Vaucluse. Let us share with you the different reasons why a real estate project in the Vaucluse could be for you. The Vaucluse department is part of the Provence-Alpes-Côte d'Azur region. The population is homogeneous with...
Read more