Contact us
Provence Luberon
Sotheby's International Realty
Place du Château
84220 GORDES, France
Provence Luberon
Sotheby's International Realty
97 place du 8 Mai
84380 MAZAN, France
>
>
Luxury Hotels and Michelin-starred restaurants in the Luberon
The excellence that makes the Luberon a destination of quality appreciated all over the world

The
Luberon
has a concentration of sublime natural landscapes and many of the most beautiful villages in France. However, exceptional addresses make this destination one of the places run by the world's largest in search of Luxury Hotels and fine dining.
These exceptional properties in the Luberon, recommended by Provence Luberon Sothebys International Realty, allow you to discover our magnificent region of Provence in the best comfort.
The best addresses in the Luberon for luxury accommodation and Michelin-starred gastronomy:
Bastide of Gordes
- Gordes
Enjoys the
Palace
Hotel de France distinction with a new spa
Sisley
.
The numerous terraces and the quality of service will make you spend an unforgettable stay.
The gastronomic restaurant
Pèir
of
Pierre Gagnaire
, 1 Michelin star, is located within its walls.
www.bastide-de-gordes.com
Rue de la Combe, 84220 Gordes - France
+33 (0) 4 90 72 12 12
Domaine of Capelongue
- Bonnieux
Domaine
5 stars
of the chef
Edouard Loubet
, member of Relais & Chateaux and Grandes Tables du monde,
Its renowned gourmet restaurant is the only
double Michelin star
in the Luberon
www.capelongue.com
The Claparèdes, Chemin des Cabanes, 84480 Bonnieux - France
+33 (0) 4 90 75 89 78
Hotel Les Bories & Spa
- Gordes
5-star
hotel with Spa and 2 swimming pools,
Its gourmet restaurant is Michelin-starred
www.hotellesbories.com
Route of the Abbey of Senanque, 84220 Gordes - France
+33 (0) 4 90 72 00 51
Le Phébus & Spa
- Joucas
5-star
hotel in a dry stone building with stunning views of the Luberon Mountains,
Its gastronomic restaurant is led by chef
Xavier Mathieu
, also one Michelin star.
The estate is decorated with a Spa
Carita
www.lephebus.com
Route de Murs, 84220 Joucas / Gordes - France
+33 (0) 4 90 05 78 83
Le Mas des Herbes Blanches
- Joucas
Five Star
Hotel & Spa, member of Relais & Chateaux,
With its gastronomic Restaurant la Table du Mas
www.herbesblanches.com
Place-dit Toron, 84220 Joucas / Gordes - France
+33 (0) 4 90 05 79 79
Coquillade village
- Gargas
Born of the passion of Werner & Carmen Wunderli for the Luberon,
This village includes a
five star
Hotel & Spa, several restaurants and
Located in the heart of its vineyard
Aureto
www.coquillade.fr
Le Perrotet, 84400 Gargas - France
+33 (0) 4 90 74 71 71
The best addresses in the Luberon for Palace & Five-star Hotels and Michelin-starred Gastronomy
The latest news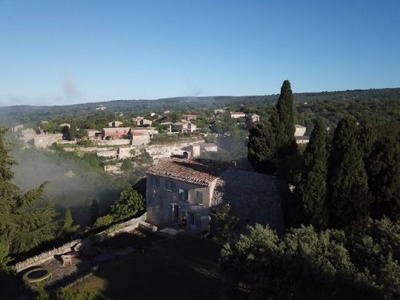 4 good reasons to buy in the Vaucluse.
Whether you dream of a Provencal farmhouse lost in the beautiful countryside or a pretty townhouse in the heart of the action, there are many reasons to come and live in the Vaucluse. Let us share with you the different reasons why a real estate project in the Vaucluse could be for you. The Vaucluse department is part of the Provence-Alpes-Côte d'Azur region. The population is homogeneous with...
Read more