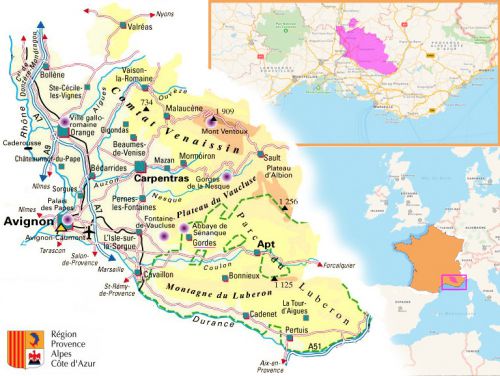 Provence and the Luberon: the region and its real estate
Gorde
s, located in the department of
Vaucluse
(84), region Provence-Alpes-Côte d'Azur, is one of the most visited villages of the regional park of the Luberon. Perched on a rock, the village is classified among the most beautiful villages in France thanks to its rich and varied heritage: an old castle that belonged to the Marquis de Sade, two abbeys, many old hamlets, several water and wind mills, provencal farmhouses and several hundred huts made of dry stone or bories. As far as the soul is concerned, Gordes was able to see the artistic spirit development with illustrious painters such as Andre Lhote, Marc Chagall, Jean Deyrolle, Victor Vasarely and Pol Mara, among others, who found here inspiration.
The
Luberon
is a region of Provence
of the department of Vaucluse prized throughout the world for its quality of life and its Mediterranean climate. The buyers and owners generally seek a certain tranquility in a preserved natural setting. The properties for sale often include large grounds decorated with landscaped gardens allowing discretion guaranteed and quality holidays lulled by the sound of cicadas in summer.
Provence
is a very rich historical and cultural region. Civilization has entered France by the Mediterranean perimeter to go up the Rhone by importing Roman architecture and the culture of the vine. Many towns in the area possess extremely well preserved remnants of that time. The medieval period subsequently enriches the patrimony of Provence, the Papacy settling a time in Avignon and the region being a crossroads between Spain, the kingdom of France and the duchy of Savoy. The Palais de Papes in
Avignon
and the numerous medieval fortresses bear witness to this era.
Our r
eal estate agency of Gordes
is located in a privileged place, in the center of Gordes, on the place of the Castle. This real estate agency of Vaucluse specializes in real estate of prestige in Gordes and is delighted to propose to its customers a great choice of villas and houses at very varied prices, from the charming provençal farmhouse to the vast Luberon property, from the villa in Gordes to the historic castle. The real estate agency of Gordes covers the luxury real estate markets on the most important of the 84 in and around
Gordes
, including the real estate markets of the Luberon such as
Menerbes, Bonnieux, Roussillon
or even
Lacoste
.
Our estate agents in Gordes are delighted to offer their clients real estate services of prestige which include not only the
sale and purchase of the Luberon properties
but also legal, administrative and practical advice concerning luxury real estate in Gordes and the Vaucluse. As a member of the world's largest luxury real estate network with over 850 prestigious real estate offices worldwide, this luxury real estate agency benefits from extraordinary connections and can handle all requests regarding purchase and sale of luxury real estate in the neighboring cities of Vaucluse french department (84) and around the world.
Our listings in the area