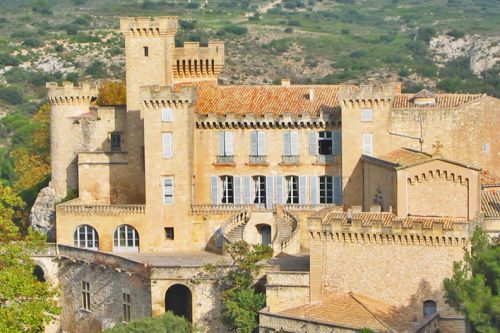 Sales take place at very tight prices because the cost of maintenance slows buyers
The real estate market is turning in several speeds in France. And the "softest" is always the niche of country houses, mansions and castles that are located in remote locations, more than an hour's drive from the cities and away from a motorway access. The reasons? With the crisis, the French but also the foreigners look twice before embarking on a pleasure acquisition that will rise costly maintenance costs over time. "For buyers, the question is how to make the site profitable, the cost of maintaining a castle can reach 40,000 to 80,000 euros per year for the biggest," explains Patrice Besse, who specializes in the old stones.
At Emile Garcin, Bruno de Saint-Exupéry, the director of the Perigord agency, wants to be reassuring. "For small castles, 20,000 euros a year are enough." It all depends on what is talked about, because the micromarché is complex: between the mansion of 200 m2 and the listed castle which has several thousands, there is a world. "Everything is sold, but goods must be priced," says Patrice Besse. "Only three to five large châteaux are sold each year (more than 2500 m2 and more than 100 hectares of land) and some fifty to one hundred if we include the smaller castles, around 800 m2 with 5 to 30 hectares of land, "he said. What budget is needed to become a chatelain? Not always as much as one might think. "One can find castles with more than 500 m2 living in good condition in the Périgord for 800,000 to 900,000 euros today. Some prices have fallen by 45% since 2007, "says Bruno de Saint-Exupéry. A manor of 700 m2 living near Albertville seeks thus taker to 430.000 euros. Near Rennes, a castle with thirty hectares was recently sold by Patrice Besse 850,000 euros. Prices lower than those of the beautiful Parisian apartments. A small manor of 130 m2 and 2000 m2 of land is even for sale in the Morbihan for only 255,000 euros. The price of a Parisian studio!
A complex micro-market
In Brittany, an XVIIIth century castle of 750 m2 and 16 hectares was also sold 1.37 million by Barnes. Around the capital, the prices go up a bit: Patrice Besse sold a castle one hour from Paris, which required 1 million jobs, 1.8 million euros. The figure hardly makes sense, but the square meter of some castles would not exceed 300 euros ...
Thibault de Saint Vincent, the president of Barnes, hopes that, given the prices achieved, foreigners will be more interested in the beautiful stones of our countryside. "For those who have a jet and can land on a nearby aerodrome, the distance from cities is not a problem," he says. For the Swiss and the British, buying in France is definitely a better deal than yesterday because of the fall in the euro. The Chinese, on the other hand, prefer the vineyards to the old stones alone. "For a Chinese investor, a building must yield or at least self-finance, and this is rare for a castle," explains Patrice Besse.
In Provence, it is still possible to acquire an 18th century castle of 820 m2 below the million euros ... and below the sun exactly !. turning it into bed and breakfast is easy considering its 8 rooms. The office Provence Luberon Sotheby's Realty of Gordes offers it for sale ... at 2h40 of Paris only.
http://provence-luberon-sothebysrealty.com/chateaux/calme-quietude-ce-chateau/
By Carole Papazian / Le figaro