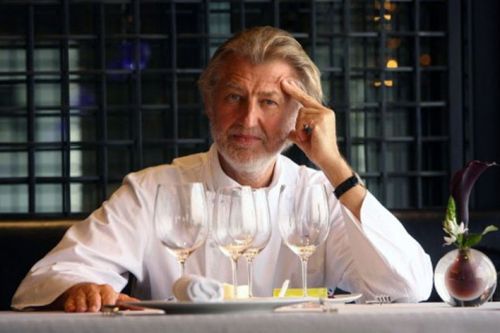 Restaurant Pèir in the Bastide of Gordes
When chef Pierre Gagnaire sets the stage in Gordes, in the Vaucluse, in the seasonal restaurant Pièr, the plates are transformed into paintings, reflecting the beauty of the surrounding landscape, far from the clichés provençaux.inconnu.gif
Hongkong, Dubai, London, Las Vegas, Courchevel, Fouquet's of Cannes and La Baule. To draw up a list of his conquests, Pierre Gagnaire is confused with those jet-laguated toques more likely to chain signatures contracts that signature dishes. The three-star chef at Balzac in Paris worsened his situation: in July he planted his flag on the limestone of one of the most popular resorts in the Luberon. Ah, the Bastide de Gordes! Its atmosphere of castle Provençal, its panorama to desorbit the eyeballs, its polyglot clientele in moccasins with picots ... It is the new take of war of the producer Stéphane Courbit. After having climbed his favorite cook at the furnaces of his hotel Les Airelles, to "Courch '", he has just hired him for a summer job.
The restaurant is named "Pèir" (Pierre in good patois of Provençal), the staff is disguised in santons, but do not count on its chief to retouch the ratatouille, to offset the aioli or to cut the pistou in four. Nor, moreover, to sow caviar, lobster and truffle at all-going. Pierre Gagnaire is far too inspired to fall into the folklore or luxury sign. From his bewitching 20-seater balcony, he played sold-out, with his young lieutenant Leo Forget, a mental, intuitive, phantasmagoric repertoire, ready to charm the palates as much as to heckle them.
Of course, the best products from the South are within range, but with figurative plates, Gagnaire always prefers this impressionism close to abstraction that dilutes, dilutes, decouples, decomposes colors and flavors with a certain sense of harmony . The old tomato? A small red dome with explosive taste, stuffed with coconut milk and ginger pulp, constellated with tellines and clams wet with cold parmesan broth. The little spelled of the country of Sault? In crunchy risotto (but not hot enough) with grilled leeks and summer truffles, haloing a blond liver cake with caressing flan texture. Mediterranean tuna and red mullet? Cut into raw and cooked dices, placed on a mirepoix pointilliste of vegetables, sprinkled with a deep iodized broth for an overpowered result, halfway between fish soup and minestrone.
Other memorable sensations: the eggplant caviar with black olives in its beetroot water at Campari, or, on the slices of a farm-fed veal, this melted sorrel-raspberry-riquette blend gracefully with the acid, the sweet and the bitter. True to his genius for knitting desserts, Pierre Gagnaire, among other pieces of jewelry, carries a pulpy diadem of brugnon, fresh almonds and caramelized, all wrapped in a mousse of soft and pink poppy. Like the sunset, just opposite, on the massif of the Petit-Luberon. Gagnaire in Provence? Bet wins!
The Bastide of Gordes, rue de la Combe, Gordes (Vaucluse), 04-90-72-12-12. Tasting menu (6 courses): 135 euros. Map: 200 euros. Closed Monday, Tuesday and lunch. Closed on 2 November.
By François-Régis Gaudry, published on 02/09/2015 at 11:19
http://www.lexpress.fr/styles/saveurs/restaurant/gordes-vaucluse-pierre-gagnaire-inspire-a-peir_1711729.html