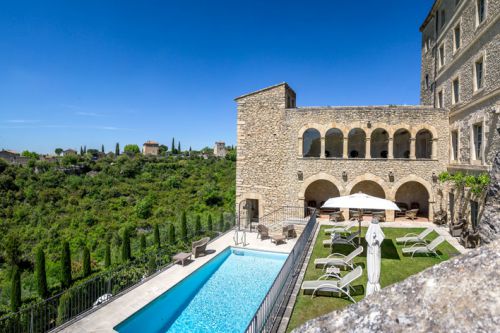 The Bastide of Gordes, Palace of the Luberon
By taking this famous address of the Vaucluse, an old manor house built on the ramparts of Gordes, Lov Hotels takes up a new challenge.
There are two moments that one does not forget at La Bastide de Gordes: the arrival at the village, when the first turn the hotel reveals itself on the side of rock, imposing and majestic, and departure, when the mere prospect of leaving the place gives a blues blow.
With the Lov Hotel collection (Les Airelles in Courchevel, the Pan Deï Palais in Saint-Tropez ...), it's always the same story. Passed the threshold of the door, one falls under the spell. Staff, dedicated, attentive and friendly. Decoration, extremely refined and always against the tide. And finally of the "house", with human size, conceived in the smallest details.
An eighteenth-century atmosphere
By taking up this famous address of the Luberon, an old manor house built on the ramparts of Gordes, Lov takes up a new challenge: to inject an 18th century atmosphere while bringing the most modern comfort but also the most discreet. To do this, the architect Christophe Tollemer has engaged in a complete renovation and up-dating, adjusting the spaces; (re) creating cloisters, vaulted ceilings and revolving staircase; optimizing traffic between buildings; transforming the old car park into a vast garden planted with olive trees and cypress trees, and in the center of which now stands a superb swimming pool. A titanic worksite built in record time (nine months!), Thanks to the know-how of more than 150 companions (painters, tunnelers, cabinet makers, masons, plasterers, mosaicists, carpenters ...). And with the tidy addition of 25 million euros. "Our ambition is to give the impression that nothing has changed for three centuries," explains the director, Jean-Pierre Lerallu. Beams, chimneys, tommettes, walnut parquet flooring, Marseilles tiles, patinated woodwork, oak foundations, old furniture and old paintings (2,000 pieces!) Distilled throughout the 40 rooms and common areas.
The pleasures of the palace
As always with Lov, the pleasures of the palace are not to be outdone. At La Citadelle or under the arbor of L'Orangerie, Olivier Bouzon gives pride of place to local produce. While at the Pèir, Pierre Gagnaire (already at the controls of the Airelles, 2 Michelin stars) offers a bold re-reading of Provencal cuisine. Because here, and no one is hiding, the macaroons are particularly fond of them. Just as one looks at the Palace label (sixteen winners only in France). Two distinctions that should not be long to embellish the sign of the hotel.
La Bastide de Gordes, Gordes (Vaucluse), a member of Leading Hotels of the World.
From 195 euros per night. 04.90.72.12.12, www.bastide-de-gordes.com